Product Description:
REMOTE CONSOLE UNIT

PLEASE CHECK ANY REPLACEMENTS WE OFFER TO MAKE SURE IT HAS ALL THE BUTTONS YOU NEED.
Model: AXD7583
Part Number: 8300758300010IL
Catalogue No.: 65719

Battery Required :
AAA Battery 2 pack
Dimensions:
2.00 x 6.00 x 1.00 (W x L x D, inches)
The original PIONEER AXD7583 Receiver Remote Control carries a 60-Days Warranty.
Customer Reviews
PIONEER AXD7583 Remote Control
It was the stock remote and work perfect right out of the package.
PIONEER AXD7583 Remote Control
Remote works fine with TV.
Operating Manuals Available for PIONEER AXD7583 Receiver Remote Control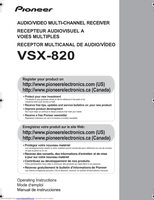 Originally Supplied with Models