Roll over image to zoom in
Click on image to zoom
Product Description:
MODEL: LSSQ0282, HG23A05W, LSSQ0282-1, LSSQ0282-2, lssq0282, 313923801551 TV/VCR/FM RADIO,


Used with Models:
PVC1352W
PVC1331W
PVC1351W
PVC931W
PVC1332W, REMOTE CONTROL
Model: LSSQ0282
Part Number: LSSQ0282
Catalogue No.: 6351

Battery Required :
AA Battery 2 pack
Dimensions:
2.00 x 6.00 x 1.00 (W x L x D, inches)
Panasonic LSSQ0282 TV/VCR Remote Control is guaranteed to work with the following TV/VCR Combo models:
Originally supplied with TV/VCR Combo models: Panasonic PVC1322, Panasonic PVC1331W, Panasonic PVC1332, Panasonic PVC1332W, Panasonic PVC1342, Panasonic PVC1351W, Panasonic PVC1352, Panasonic PVC1352W, Panasonic PVC1352WK, Panasonic PVC931W
Compatible with TV/VCR Combo models: Panasonic PVC1321, Panasonic PVC1321A, Panasonic PVC1331, Panasonic PVC1341, Panasonic PVC1351, Panasonic PVC921,
Customer Reviews
Panasonic LSSQ0282 Remote Control
Used in a guest room on an old set. Worked like the original. Anyone who needs a replacement remote and wants to know it will work should use this firm.
Panasonic LSSQ0282 Remote Control
This remote is necessary to operate many of the features of the TV/VCR/FM Radio. I use it nightly. I was pleased to discover a replacement was still available. I would definately recomment Replacement Remote to any of my friends having remote problems. The one I received looked new and was not marked up as I was prepared for since it was a reconditioned and not new remote.
Operating Manuals Available for Panasonic LSSQ0282 TV/VCR Remote Control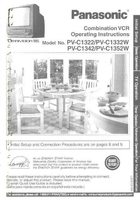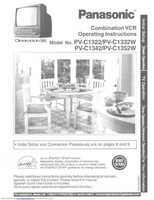 Originally Supplied with Models