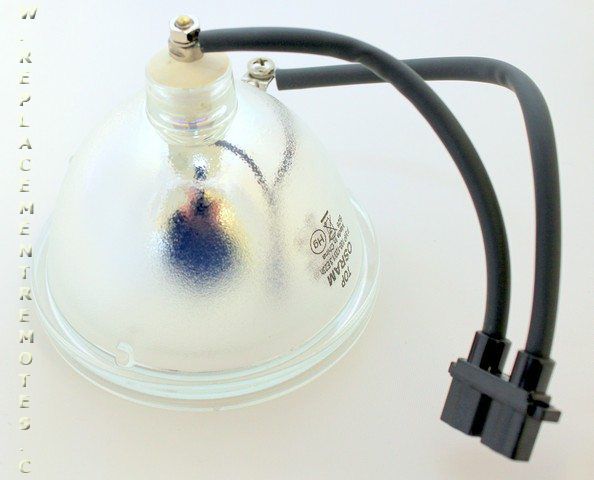 Roll over image to zoom in
Click on image to zoom
Product Description:
P-VIP 100-120/1.3 E23h Osram Original Replacement Television Bulb that fits into your existing Cage Assembly . Brand New High Quality Original Projector Bulb
Model: 69383
Part Number: 69383 Bulb
Catalogue No.: 81340

This projector bulb can be used with units :
Projector
Dimensions:
5.00 x 5.00 x 5.00 (W x L x D, inches)
The original Osram 69383 Projector Bulb carries a 60-Days Warranty.
Osram 69383 Projector Bulb is guaranteed to work with the following Projector models:
Originally supplied with Projector models: Acer 101280603 Bulb, Osram 252005505 Bulb, Osram 265103 Bulb, Osram 265103R Bulb, Osram 31227859084 Bulb, Viewsonic 3797048800 Bulb, Viewsonic 379755220 Bulb, Viewsonic 3797631900S Bulb, Osram 44HM84 Bulb, Osram 44HM85 Bulb Osram 4930V00301 Bulb Osram 50ML8105 Bulb Osram 50ML8105D Bulb Osram 50ML8105D/17 Bulb Osram 56DR650 Bulb Osram 6912B22002C Bulb Osram 6912B22007A Bulb Osram 69383 Osram 7005089 Bulb Osram 72782309 Bulb Osram 915P02A010 Mitsubishi Bulb Osram AZ684020 Bulb Runco BP9600224A Bulb Osram BP9600224A Samsung Bulb Runco BP9600224B Bulb Osram BP9600224B Samsung Bulb Osram D50W19 RCA Bulb Osram DLP56TV Bulb Osram DT62SZ71DB Bulb Osram ETLAD95V Bulb GE General Electric GDT56DRP Bulb Viewsonic HD2100 Bulb Viewsonic HD2100U Bulb Viewsonic HD2101 Bulb Osram HD50LPW162 Bulb Osram HD50LPW162YX1 Bulb Osram HD50LPW162YX2 Bulb Osram HD50LPW162YX3 Bulb Osram HD50LPW162YX3M Bulb Osram HD50LPW162YX4 Bulb Osram HD50LPW162YX4M Bulb Osram HD50LPW163YX1 Bulb Osram HD50LPW163YX2 Bulb Osram HD50LPW163YX3 Bulb Osram HD50LPW163YX3M Bulb Osram HD50LPW163YX4 Bulb Osram HD50LPW163YX4M Bulb Osram HD60LPW42 Bulb Osram HD61LPW162 Bulb Osram HD61LPW162YX1 Bulb Osram HD61LPW162YX2 Bulb Osram HD61LPW162YX3 Bulb Osram HD61LPW163YX3 Bulb Osram HD61LPW163YX4 Bulb Osram HD61LPW163YX5 Bulb Osram HD61LPW163YX6 Bulb Osram HDD45 Bulb Osram HDD45H Bulb Osram HDD45S Bulb Osram HDD50 Bulb Osram HDD50H Bulb Osram HDD56 Bulb Osram HDD56B Bulb Osram HDLP50W151 Bulb Osram HDLP50W151YX1 Bulb Osram HDLP50W151YX2 Bulb Osram HDLP50W151YX3 Bulb Osram HDLP50W151YX4 Bulb Osram HDLP50W162 Bulb Osram HDLP60W164 Bulb Osram HDLP61W151 Bulb Osram HDLP61W151YX1 Bulb Osram HDLP61W151YX2 Bulb Osram HDLP61W151YX3 Bulb Osram HDLP61W162 Bulb Osram HDLP61W163 Bulb Viewsonic HDT2100 Bulb Osram HLM4365 Bulb Osram HLM4365W Bulb Osram HLM4365WX Bulb Osram HLM5065 Bulb Osram HLM5065W Bulb Osram HLM5065W1X Bulb Osram HLM5065WX Bulb Osram HLM507 Bulb Osram HLM507W Bulb Osram HLM507WX Bulb Osram PT40DL54 Bulb Acer PT46DL10 Type Z Bulb Osram PT50DL54 Bulb Osram PT50DL54J Bulb Osram PT56DLX25 Bulb Osram PT56DLX75 Bulb Osram PT60DL54 Bulb Osram PT60DL54J Bulb Osram PT61DLX25 Bulb Osram PT61DLX75 Bulb Osram PTD9500E Bulb Osram PTD9500U Bulb Osram PTD9600E
VIEW ALL MODELS ORIGINALLY USED WITH Osram 69383 Bulb Projector Bulb
Compatible with Projector models: Vivitek 3797610800, Viewsonic PJD5151, Viewsonic PJD5153, Viewsonic PJD5154, Viewsonic PJD5155, Viewsonic PJD5250, Viewsonic PJD5253, Viewsonic PJD5254, Viewsonic PJD5255, Viewsonic PJD5353LS Viewsonic PJD5553LWS Viewsonic PJD5555-Tiger Viewsonic PJD5555W Viewsonic PJD6252L Viewsonic PJD6350 Viewsonic PJD6351Ls Viewsonic PJD6550LW Viewsonic PJD6551Lws Viewsonic PJD6551W Viewsonic RLC-093 HITACHI RLC13003A Viewsonic RLC150003 Viewsonic RLU150001 HITACHI RLU19003A Viewsonic RP42GD51 Bulb Viewsonic RP42HD51 Bulb Viewsonic Vivitek 42 Inch TV Bulb Viewsonic VS14115 Viewsonic VS15871 Viewsonic VS15872 Viewsonic VS15873 Viewsonic VS15874 Viewsonic VS15875 Viewsonic VS15876 Viewsonic VS15877 Viewsonic VS15878 Viewsonic VS15879 Viewsonic VS15880 Viewsonic VS15913 Viewsonic VS16443
Originally Supplied with Models