Roll over image to zoom in
Click on image to zoom
Product Description:
ONKYO AV RECEIVER REMOTE CONTROL

Please make sure the Replacement RC865M has all the functions you need. We do guarantee it to work.
Model: RC737M
Part Number: 24140737
Associated Number: RC-737M
Catalogue No.: 65239

Battery Required :
AA Battery 2 pack
The original ONKYO RC737M Receiver Remote Control carries a 60-Days Warranty.
ONKYO RC737M Receiver Remote Control is guaranteed to work with the following Audio/Video Receiver models:
Originally supplied with Audio/Video Receiver models: ONKYO HTS6200, ONKYO TXSR507, ONKYO TXSR507S,
Customer Reviews
Very satisfied with the product, only the process was somewhat desapointing...at some point the order was cancelled, than reactivated, than Back order, than a call from someone solved it. Welcome !
Pleased with the purchase but unhappy I paid 6.95 for speedy delivery and it took 10 days. Could have saved the money and went with snail mail.
Operating Manual Available for ONKYO RC737M Receiver Remote Control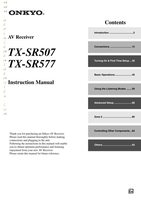 Originally Supplied with Models