Product Description:
SERVICE REMOTE FOR LG TV'S
Specifications
Model: MKJ39170828 Master/Service
Part Number: MKJ39170828
Catalogue No.: 64205
Battery Required :

AA Battery 2 pack

Dimensions:

2.00 x 6.00 x 1.00 (W x L x D, inches)
The LG MKJ39170828 Master/Service TV Remote Control is originally supplied with TV models: LG 24LV570M, LG 28LV570M, LG 32LV570M, LG 43LV570M, ZENITH DU27FB32C,
The LG MKJ39170828 Master/Service TV Remote Control is compatible with TV models: LG 105201L, LG 26LH210C, LG 26LX1D, LG 26LX1DUD, LG 30FZ4D, LG 30FZ4DUA, ZENITH 32CL2D, ZENITH 32LC2D, ZENITH 32LC2DU, LG 32LH200C LG 32LH210C LG 32LX1D LG 32LX1DUA LG 32LX4DC ZENITH 37LC2D LG 37LH200C ZENITH 42LC2D LG 42LH200C ZENITH 42PC3D LG 42PC3DC LG 42PC3DCUD LG 42PC3DUD ZENITH 42PC3DV LG 42PC3DVUD LG 42PC3DVUDA1 LG 47LH300C ZENITH 50PC3D LG 50PX1D ZENITH 60PC1D LG 62SX4D LG C32V37 ZENITH DPDP60W ZENITH E44W46LCD ZENITH H19E34Y ZENITH H20E34Y ZENITH H20E35DT ZENITH H25E34Y ZENITH H25E35DT ZENITH H25E37Y ZENITH H25E39Y ZENITH H27E35DT ZENITH H27E35DT8 ZENITH H27E35S ZENITH H27E35S8 ZENITH H32E35DT ZENITH H36E35DT ZENITH HPK20E35DT ZENITH HPK27E35DT ZENITH HW20E35DT ZENITH HW25E35DT ZENITH L20V54S INSIGNIA NSPDP42 ZENITH R49W36 LG R50W46 LG R57W46 LG RU44SZ51D LG RU44SZ61 LG RU44SZ61D LG RU44SZ63D LG RU44SZ80L LG RU52SZ51D LG RU52SZ61D ZENITH Z44SZ80 ZENITH Z56DC1D
Customer Reviews
Good price. Prompt Service and delivery. Thanks
Does exactly what I need. LG Australia wouldn't sell us one. Thanks
Works exactly as expected. But it's a service remote, so not for the non-techie.
I have a collection of remotes control to return. Only one master remote did help us. Excellent purchase.
This remote was just what I needed to reset all the TV's in my Hotel!! Thanks for reproducing this remote!!
the unit is exactly what we needed, it works well and the service provided by your rep was excellent. Regards,
The remote worked great. We were able to reprogram all our LG sets at the hotel. However, it was not self-explanatory in how to reset the default channel. Our technician could not figure out how to reset even after reading the manual online and looking for youtube videos to explain. To make a long story short, we finally found an expert who had used this remote before and it wasn't too hard after that. What we liked most about the remote was the price. Other places charge two or three times more.
Item as described. Works perfectly. Fair price.
Works well and does exactly what I need it to do
Very good service. Appreciate the notices to keep us informed.
Great service and prompt delivery
Exactly as described. Perfect functionality.
LG MKJ39170828 Remote Control
Product was of high quality. Was exactly what I ordered. Works flawlessly. Top notch company!
LG MKJ39170828 Remote Control
Operating Manuals Available for LG MKJ39170828 Master/Service TV Remote Control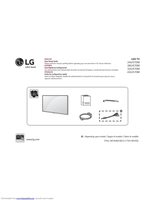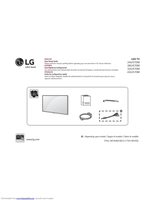 Originally Supplied with Models