Roll over image to zoom in
Click on image to zoom
Product Description:
JVC DVD PLAYER Remote Control,
MODEL: RM-SXV069M-1

Registered on 2005-06-23
Model: RMSXV069M
Part Number: RMSXV069M1
Associated Number: RM-SXV069M
Catalogue No.: 23644

Battery Required :
AA Battery 2 pack
JVC RMSXV069M DVD Remote Control is guaranteed to work with the following DVD Player models:
Originally supplied with DVD Player models: JVC XVN222S, JVC XVN320B, JVC XVN322S, JVC XVN330B, JVC XVN332S, JVC XVN340B, JVC XVN342S, JVC XVN420B, JVC XVN422S,
Compatible with DVD Player models: JVC XVN332SU, JVC XVN332SUBC,
Customer Reviews
This replacement remote works perfectly with our JVC DVD player. Thank you!
Operating Manual Available for JVC RMSXV069M DVD Remote Control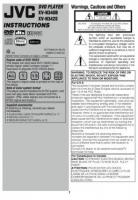 Originally Supplied with Models