Product Description:
MODEL: RM-C15G

Replaced By: RRC322G (No Digit-in, Sound)
Registered on 2004-02-09, REMOCON UNIT , Registered on 2007-07-19
Model: RMC15G
Part Number: RMC15G1H
Associated Number: RM-C15G-1H
Catalogue No.: 23308

Battery Required :
AA Battery 2 pack
Guaranteed Compatible Universal :
Anderic RRU401
, Use code:
2757
(
click here for programming instructions
)
The original JVC RMC15G TV Remote Control carries a 60-Days Warranty.
JVC RMC15G TV Remote Control is guaranteed to work with the following TV models:
Originally supplied with TV models: JVC HD52G566, JVC HD52G566AA, JVC HD52G576, JVC HD52G586, JVC HD52Z575, JVC HD52Z575PA, JVC HD52Z585, JVC HD52Z585PA, JVC HD61Z575, JVC HD61Z575/AA JVC HD61Z575/PA JVC HD61Z576 JVC HD61Z585 JVC HD61Z585/AA JVC HD61Z585/PA
Compatible with TV models: JVC 56WP74AH, JVC AV48WP74, JVC AV56WP7, JVC AV56WP74, JVC AV56WP74/HA, JVC AV65WP74, JVC AVN48P74, JVC AVN56P74, JVC AVN65P74, JVC HD52Z795 JVC HD61Z795 JVC RMC1200G
Customer Reviews
JVC RMC15G Remote Control
Perfect replacement remote.
Operating Manuals Available for JVC RMC15G TV Remote Control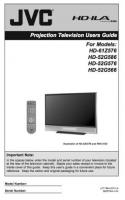 Originally Supplied with Models