Roll over image to zoom in
Click on image to zoom
Product Description:
MODEL: RM-C1258G-1H
Best replacement remote control available is the RMC5094 BY ANDERIC (No programming)
AV32F475, JVCRMC1258G1H
Registered on 2003-12-17
Model: RMC1258G
Part Number: RMC1258G1H
Associated Number: RM-C1258G
Catalogue No.: 7398

Battery Required :
AA Battery 2 pack
The original JVC RMC1258G TV Remote Control is available for special order.
The original JVC RMC1258G TV Remote Control carries a 60-Days Warranty.
JVC RMC1258G TV Remote Control is guaranteed to work with the following TV models:
Originally supplied with TV models: JVC AV20F475, JVC AV20F476, JVC AV20F476/S, JVC AV27F475, JVC AV27F476, JVC AV27F476/Y, JVC AV27F476/Z, JVC AV27F476R, JVC AV27F476S, JVC AV27F485 JVC AV27F485/S JVC AV30W475 JVC AV30W476 JVC AV30W476/S JVC AV32F475 JVC AV32F476 JVC AV32F476Y JVC AV32F476Z JVC AV32F485 JVC AV32F485/Z JVC AV36F475 JVC AVN21F45 JVC AVN21F46/S JVC AVN29F45 JVC AVN29F46/R JVC AVN29F46/S JVC AVN34F46/Y JVC AVN34F46/Z
Compatible with TV models: JVC AV20F476S, JVC AV20FA44, JVC AV27F704, JVC AV27FA44, JVC AV27FA54, JVC AV32D104, JVC AV32DF74, JVC AV32F704, JVC AV32FA44, JVC AV32FA54 JVC AV32S575 JVC AV32S585 JVC AV36D104 JVC AV36DF74 JVC AV36F704 JVC AV36FA44 JVC AV36FA54 JVC AVN21A44 JVC AVN21F46S JVC AVN29304 JVC AVN29A44 JVC AVN29F46R JVC AVN29F46S JVC AVN34A44 JVC AVN34F46Y JVC AVN34F46Z JVC AVN38A54
Customer Reviews
It works great. I got it in record time. Thank you.
Operating Manual Available for JVC RMC1258G TV Remote Control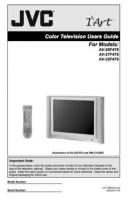 Originally Supplied with Models