Roll over image to zoom in
Click on image to zoom
Product Description:
MODEL: LP20878-001A

JVC VCR REMOTE CONTROL

Registered on 1999-09-01
Model: LP20878001
Part Number: LP20878001A
Associated Number: LP20878-001A
Catalogue No.: 1674

Battery Required :
AA Battery 2 pack
Dimensions:
2.00 x 6.00 x 1.00 (W x L x D, inches)
JVC LP20878001 TV/VCR Remote Control is guaranteed to work with the following TV/VCR Combo models:
Originally supplied with TV/VCR Combo models: JVC HRA36U, JVC HRA37U, JVC HRA47U, JVC HRA56U, JVC HRA57U, JVC HRJ3008UM, JVC HRJ691U, JVC HRJ694U, JVC HRJ695U, JVC HRLTR1U JVC HRS29001U JVC HRS2901 JVC HRS2901M JVC HRS2901U JVC HRS290IU JVC HRS2911U JVC HRS3901U JVC HRS3911U JVC HRVP48U JVC HRVP8U
Compatible with TV/VCR Combo models: JVC HR4P4534, JVC HRA5U, JVC HRP782U, JVC HRS29U, JVC HRS35000, JVC HRS3800U, JVC HRS3900U, JVC HRS3900UC, JVC HRS3902U, JVC HRS3902US JVC HRS3910U JVC HRS3912U JVC HRS3912US JVC HRS4800S JVC HRS4800U JVC HRS5900U JVC HRS5900UC JVC HRS5901U JVC HRS5902U JVC HRS5902US JVC HRS5910U JVC HRS5911U JVC HRS5912U JVC HRS5912US JVC HRS7800U JVC HRS7900U JVC HRVP59U JVC HRVP680 JVC HRVP680U JVC HRVP682U JVC HRVP683U JVC HRVP68U JVC HRVP690 JVC HRVP690U JVC HRVP693U JVC HRVP728U JVC HRVP780U JVC HRVP782 JVC HRVP7824 JVC HRVP782U JVC HRVP783U JVC HRVP78U JVC HRVP790U JVC HRVP793U JVC RHVP782U
Customer Reviews
JVC LP20878001 Remote Control
Just what I needed
Replacement remotes had the remote I needed at an excellent price and got it to me quickly. Who could ask for more?
Operating Manual Available for JVC LP20878001 TV/VCR Remote Control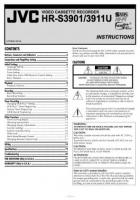 Originally Supplied with Models