Product Description:
JVC Original LED Hd TV Remote control

Associated numbers: RMT-JR01, RMTJR01, 0980-0306-0010, 0980-0306-0011
Specifications
Model: RMTJR01
Part Number: 098003060012
Associated Number: 0980-0306-0012
Catalogue No.: 80131
Battery Required :

AA Battery 2 pack

Guaranteed Compatible Universal : Anderic RRU401

, Use code:

2703

(

click here for programming instructions

)

Frequency Type :

IR

Dimensions:

2.00 x 6.00 x 1.00 (W x L x D, inches)
The JVC RMTJR01 TV Remote Control is originally supplied with TV models: JVC BC50R, JVC EM28T, JVC EM32FL, JVC EM32T, JVC EM32TS, JVC EM37T, JVC EM39FT, JVC EM39T, JVC EM48FTR, JVC EM55FT JVC EM55FTR JVC EM65FTR JVC JLC32BC3000 JVC jlc32bc3002 JVC JLC37BC3000 JVC JLC37BC3002 JVC JLC42BC3000 JVC JLC42BC3002 JVC JLC47BC3000 JVC JLC47BC3002 JVC JLE32BC3001 JVC JLE37BC3001 JVC JLE42BC3001 JVC JLE42BC3500 JVC JLE47BC3001 JVC JLE47BC3500 JVC LT47EM59 JVC LT65N675U JVC RMTJR01
The JVC RMTJR01 TV Remote Control is compatible with TV models: JVC EM42FTR,
Customer Reviews
This is an exact replacement of my original JVC remote that failed after 11 years (yes the tv still works (knock on wood!). I'm real glad that I found this instead of trying a universal remote...they don't work that well. Dan's Electronics got the remote to me fast. I appreciate that!
Worked immediately!!! I couldn't ask for a better outcome. Gracias
Thank you for the prompt delivery it's working beautiful great service
Once received I took it out of the box, put in batteries, pointed it at the TV (JVC) and it worked instantly. Thank you very much.
Easy to order, quick service, the remote works perfectly! B. Green
Worked right out of the packaging, shipping fast and the pricing I couldn't beat. Thanks for a great product.
Exactly what I needed.. added batteries and it worked perfectly right out of the box with no programming.. Good price and quality product..
Very happy with this item worked perfectly right out of the packaging.
CAME SO QUICKLY AND WORKS LIKE A DREAM
The remote is just missing a direct button to go into Netflix, Hulu, etc...without going other ways of opening these networks
Fantastic! It works perfectly, right out of the box. Great purchase!
I needed the remote as quickly as possible so I paid for overnight delivery it came right on time was the right one worked perfectly thanks excellent service five star rating
This remote works perfectly, unlike the universal replacement from Walmart. The menu in the universal did not allow for all of the items that are on the JVC RMTJR01 Remote Control purchased from relacementremotes.com. Thank you VERY much. It is just like the original remote.
Your website was super helpful in ensuring we got the right remote. It was exactly the one we needed brand new even though our tv is about 8 years old.
Arrived quickly and was exactly what was expected.
Ordering was a snap compared to Samsung. They sent me all over the country. Remote works fine. Thanks, Dave Maniaci
Excellent --- the product works very well --- I am totally satisfied.
Exactly what I needed. Thank you very much.
Received no instructions with the remote and it doesn't even work. Tried different batteries, but it didn't help. What a waste.
Nice remote. Works perfectly with my JVC tv.
No programming necessary, worked immediately!
Looks like an original. While less expensive than elsewhere, seems priced higher than a reasonable margin requires.
Very happy with the service. The remote works just like the original - no complaints whatsoever. I will order again if our dog chews this one up.
JVC RMTJR01 Remote Control
EASY-GOOD PRODUCT - GOOD PRICE - FAST SHIPPING!!!!!
JVC RMTJR01 Remote Control
even though the remote is for the family tv, it was necessary because no dvd could be watched. I would recommend anyone who needs a replacement to go to your site. The product is as good as the original.
Operating Manual Available for JVC RMTJR01 TV Remote Control
New Product
Free Download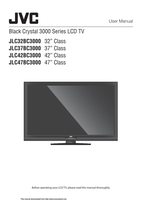 Originally Supplied with Models