Product Description:
INSIGNIA TOSHIBA FIRE TV REMOTE CONTROL FOR 2020 MODELS

The Pairing Instructions for this remote are as follows:
Reset TV - Unplug the TV from the power source
- Turn it on and allow it to boot up
- Once TV is booted up, HOLD the home key on the remote for up to 30 seconds
- Your TV may instruct you that the remote needs an UPDATE
Allow it to update. It may take 1-3 minutes.
Model: NSRCFNA21 Fire
Part Number: NSRCFNA21
Catalogue No.: 205031

Battery Required :
AAA Battery 2 pack
Guaranteed Compatible Universal :
Anderic RRU401
, Use code:
2678
(
click here for programming instructions
)
Frequency Type :
IR + RF
Dimensions:
2.00 x 6.00 x 1.00 (W x L x D, inches)
The original INSIGNIA NSRCFNA21 Fire TV Remote Control carries a 60-Days Warranty.
Customer Reviews
Reasonably priced and quick delivery.
Operating Manuals Available for INSIGNIA NSRCFNA21 Fire TV Remote Control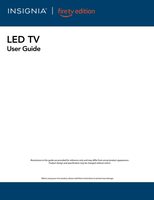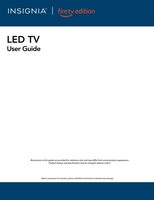 Originally Supplied with Models