Product Description:
REMOTE CONTROL HITACHI ROKU TV'S.

MODEL 101018E0001, 101018E0002, 101018E0003 (just different shortcut keys) are the same.
Model: 101018E0002 For 2016 Roku
Part Number: X490077
Catalogue No.: 92379

Battery Required :
AAA Battery 2 pack
Guaranteed Compatible Universal :
Anderic RRU401
, Use code:
2803,2654
(
click here for programming instructions
)
Dimensions:
2.00 x 6.00 x 1.00 (W x L x D, inches)
The original HITACHI 101018E0002 For 2016 Roku TV Remote Control is in-stock and ships within 24 hours.
The original HITACHI 101018E0002 For 2016 Roku TV Remote Control carries a 60-Days Warranty.
HITACHI 101018E0002 For 2016 Roku TV Remote Control is guaranteed to work with the following TV models:
Originally supplied with TV models: HITACHI 50R8, HITACHI 55R7, HITACHI 55R80, HITACHI 65R8,
Compatible with TV models: TCL 28S305, TCL 28S3750, Haier 32E4000R, Haier 32E4000RA, HITACHI 32R20, HITACHI 32RZ2, TCL 32S301, TCL 32S305, TCL 32S321, TCL 32S331 TCL 32S3700 TCL 32S3750 TCL 32S3800 TCL 32S3850 TCL 32S3850A TCL 32S3850B TCL 32S3850P TCL 32S4610R TCL 40FS3750 TCL 40FS3800 TCL 40FS3850 TCL 40FS4610R PHILIPS 40PFL4662/F7 TCL 40S303 TCL 40S305 Haier 43E4500R Haier 43E4500RA Haier 43E4500RB TCL 43FP110 PHILIPS 43PFL4662/F7 PHILIPS 43PFL4962/F7 HITACHI 43R5 HITACHI 43R50 HITACHI 43R80 HITACHI 43RZ5 TCL 43S303 TCL 43S305 TCL 43S403 TCL 43S405 TCL 43S421 TCL 43S423 TCL 43S425 TCL 43S435 TCL 43S515 TCL 43S517 TCL 43S525 TCL 43UP120 TCL 43UP130 TCL 48FS3700 TCL 48FS3750 TCL 48FS4610R Haier 49E4500R Haier 49E4500RA TCL 49FP110 HITACHI 49R50 HITACHI 49R80 HITACHI 49R81 HITACHI 49RH1 TCL 49S303 TCL 49S305 TCL 49S403 TCL 49S405 TCL 49S515 TCL 49S517 TCL 50FS3800 TCL 50FS3850 PHILIPS 50PFL4662/F7 HITACHI 50R5 TCL 50S421 TCL 50S423 TCL 50S425 TCL 50S435 TCL 50S525 TCL 50UP120 TCL 50UP130 LG 5313x TCL 55C807 Haier 55E4500R Haier 55E4500RA Haier 55E4500RB TCL 55FS3700 TCL 55FS3750 TCL 55FS3850 TCL 55FS4610R LG 55LF5700 LG 55LF5700-UA TCL 55R615 TCL 55R617 HITACHI 55R81 HITACHI 55RH1 TCL 55S401 TCL 55S403 TCL 55S405 TCL 55S421 TCL 55S423 TCL 55S423CA TCL 55S425 TCL 55S435 TCL 55S525 TCL 55UP120
VIEW ALL MODELS COMPATIBLE WITH HITACHI X490077 TV Remote Control
Customer Reviews
Exactly the same as the one my wife put through the washing machine, works fine.
Came faster than expected :) Looks in perfect shape.
Was shipped and delivered quickly. Works perfectly!
Worked perfectly, immediately. Did not need programming.
Perfect match as advertised. Thank you!
Worked perfectly with my Hitachi set.Misplaced the original while in the process of moving. Impossible to navigate the menus without it. A definite lifesaver. Quite satisfied.
It quit working after 1 week.
Operating Manual Available for HITACHI 101018E0002 For 2016 Roku TV Remote Control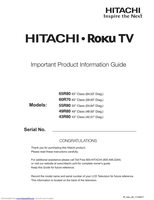 Originally Supplied with Models