Roll over image to zoom in
Click on image to zoom
Product Description:
Specifications
Model: EN3R39H 2018 SMART
Part Number: EN3R39H
Catalogue No.: 197862
Battery Required :

AAA Battery 2 pack

Dimensions:

2.00 x 6.00 x 1.00 (W x L x D, inches)
The HISENSE EN3R39H 2018 SMART TV Remote Control is originally supplied with models: HISENSE 43H6E, HISENSE 49H6020E, HISENSE 49H6030E, HISENSE 49H6040E, HISENSE 49H6050E, HISENSE 49H6070E, HISENSE 49H6080E, HISENSE 49H6508, HISENSE 49H6E, HISENSE 49H6E1 HISENSE 49H7508 HISENSE 60EU6070 HISENSE 60H6020E HISENSE 60H6030E HISENSE 60H6040E HISENSE 60H6050E HISENSE 60H6070E HISENSE 60H6080E HISENSE 60H6408 HISENSE 60H6E HISENSE 60H6E1 HISENSE 60H7408
The HISENSE EN3R39H 2018 SMART TV Remote Control is compatible with models: HISENSE 50H6E, HISENSE 55EU6070, HISENSE 55H6E, HISENSE 55H8E, HISENSE 65H6080E, HISENSE 65H6E, HISENSE 65H8E, SHARP LC50Q7000U, SHARP LC50Q7003CU, SHARP LC50Q7020U SHARP LC50Q7030U SHARP LC50Q7050U SHARP LC50Q7060U SHARP LC50Q7070U SHARP LC50Q7080U SHARP LC55Q620U SHARP LC55Q7000U SHARP LC55Q7003U SHARP LC55Q7020U SHARP LC55Q7030U SHARP LC55Q7050U SHARP LC55Q7060U SHARP LC55Q7070U SHARP LC55Q7080U SHARP LC65Q7000U SHARP LC65Q7003U SHARP LC65Q7020U SHARP LC65Q7050U SHARP LC65Q7060U SHARP LC65Q7070U SHARP LC65Q7080U
Customer Reviews
Remote is great. The person who answered the phone was snarky.
Operating Manual Available for HISENSE EN3R39H 2018 SMART TV Remote Control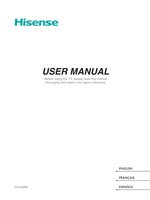 Originally Supplied with Models