Product Description:
HISENSE LGD32A300MUS HD TV REMOTE CONTROL
Model: EN22653A
Part Number: 164637
Associated Number: EN-22653A
Catalogue No.: 80397

Battery Required :
AAA Battery 2 pack
Frequency Type :
IR
Dimensions:
2.00 x 6.00 x 1.00 (W x L x D, inches)
The original HISENSE EN22653A TV Remote Control is in-stock and ships within 24 hours.
The original HISENSE EN22653A TV Remote Control carries a 60-Days Warranty.
HISENSE EN22653A TV Remote Control is guaranteed to work with the following TV models:
Originally supplied with TV models: HISENSE 32A320, HISENSE 32K20D, HISENSE 39A320, HISENSE 40H3, HISENSE 40K20D, HISENSE 40K24D, HISENSE 40K360M, HISENSE 40K360MN, HISENSE 42A320, HISENSE 46K360M HISENSE 46K360MN HISENSE 46K360MV1 HISENSE 46K360MV2 HISENSE 50H3 HISENSE 50H3B HISENSE 50K20DG HISENSE 50K22DG HISENSE 50K23DG HISENSE 55K22DG
Compatible with TV models: HISENSE 23A320, HISENSE 32K26, HISENSE 32K360, HISENSE 39V77C, HISENSE 40K360, HISENSE 50K360G, HISENSE 50K362G, HISENSE Lhd23a300us,
Customer Reviews
Thank you for the quick shipment!!1
Works perfectly. Hopefully the puppy won't chew this one.
Original factory equipment and works perfectly. Reasonable price.
Never found the original and I'm thrilled with the replacement!!
Great! Just like the original.
Operating Manuals Available for HISENSE EN22653A TV Remote Control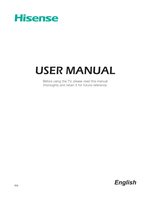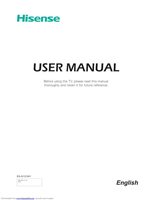 Originally Supplied with Models