Product Description:
ORIGINAL EQUIPMENT HISENSE TV REMOTE CONTROL
Model: EN22652A
Part Number: 160678
Associated Number: EN-22652A
Catalogue No.: 80398

Battery Required :
AAA Battery 2 pack
Dimensions:
2.00 x 6.00 x 1.00 (W x L x D, inches)
The original HISENSE EN22652A TV Remote Control is in-stock and ships within 24 hours.
The original HISENSE EN22652A TV Remote Control carries a 60-Days Warranty.
HISENSE EN22652A TV Remote Control is guaranteed to work with the following TV models:
Originally supplied with TV models: HISENSE 23A320, HISENSE 32K26, HISENSE 32K360, HISENSE 39V77C, HISENSE 40K360, HISENSE 50K360G, HISENSE 50K362G, HISENSE Lhd23a300us,
Compatible with TV models: Element 1055188, HISENSE 24K20, Element 40LE45S, HISENSE 42K26, Element ELCHS192, HISENSE ELCHS261, Element ELCHS262, Element ELCHS321, Element ELCHS322, HISENSE ELCHS371 HISENSE ELCHS372 Element ELCHW261 Element ELCHW321 HISENSE ELCHW402 Element ELDHW421 EMERSON ELPCFT421 EMERSON ELPCFT501 Element EN21645E Element EN21645E1 HISENSE EN31201A HISENSE F24V77C HISENSE F24V86C HISENSE F39V77C HISENSE F40V87C HISENSE F42K20E HISENSE F46K20E HISENSE F46V89C HISENSE F55V89C HISENSE H24V86 HISENSE H32K26E HISENSE H32V77C HISENSE LHD32K20US HISENSE LHD32V66AUS HISENSE LHD3N32V66AUS HISENSE LHDN32V66AUS HISENSE LHDN32V87HUS HISENSE LTD24V86US HISENSE LTDN24V86US EMERSON LTDN42V68US HISENSE LTDN42V77US HISENSE LTDN46V86US Element PHD42W39US Element PLX4202B Element PLX5002B HISENSE RTEN31201A
Customer Reviews
Works great, replacement of my original Emerson remote that came with my TV purchase. Plus I'm happy with the price! Overall I'm a "happy camper.
works flawlessly with no programming required
Works as good as the original remote, if not better.
worked right out of package, no programing, excellent product,fast shipping!
Exact replacement. Looks different, but all the functions work perfectly. Advise to potential buyers... make sure you match your model number exactly. I bought from a different supplier that had the correct brand name, but the model numbers didn't match and it didn't work with my tv. These guys had the exact match. Would definitely buy from them again.
Exactly what we needed, seems to be better quality than the Original one that came with out TV years ago. ??
Thank you, very happy with it, does everything I need it to
I am very pleased that the replacement remote works perfect with my TV. I only had to put batteries in and it worked just as the original remote did.
Operating Manual Available for HISENSE EN22652A TV Remote Control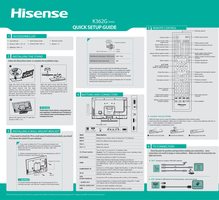 Originally Supplied with Models