Roll over image to zoom in
Click on image to zoom
Product Description:
This remote is used with Emerson, Sylvania and Symphonic LCD TVs
Specifications
Model: NF604UD
Part Number: NF604UD
Associated Number: NF604UD
Catalogue No.: 61296
Battery Required :

AA Battery 2 pack

Guaranteed Compatible Universal : Anderic RRU401

, Use code:

2689

(

click here for programming instructions

)
The FUNAI NF604UD TV Remote Control is originally supplied with models: FUNAI CLC200YM8, FUNAI FVD3381, FUNAI LC195EM82, FUNAI LC195EM87, FUNAI LC195SL8, FUNAI LC195SL8A, FUNAI SLC195EM8, FUNAI SLC195EM82,
The FUNAI NF604UD TV Remote Control is compatible with models: FUNAI LC155SC8, FUNAI LC200EM8, FUNAI LC200EM8A, FUNAI LC200EM8G, FUNAI LC200SL9, FUNAI LC200SL9A,
Customer Reviews
FUNAI NF604UD Remote Control
The first remote wore out. Does that happen often? It never did before to any of my former remotes.
Operating Manual Available for FUNAI NF604UD TV Remote Control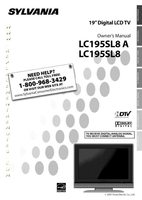 Originally Supplied with Models