Product Description:
The Anderic RMD20337 remote control is an exact replacement for the Toshiba SER0295 Remote Control. The RMD20337 will work right out of the package for compatible Toshiba models listed (but not limited to) without any programming. The RMD20337 is a pre-programmed Toshiba DVD recorders and cannot be programmed to any other devices. The remote includes popular features like DISC MENU, TIMER and of course, all other buttons for normal operations. For detailed information on how to use this product with your TV, please refer to your TV's operating manual.

Additional information:
- This remote only works Toshiba DVD/VHS players
- This remote will not program to any other devices (TVs, Cable boxes, etc.)
- NO PROGRAMMING REQUIRED
- Replaces many remotes including (but not limited to): SER0295
Specifications
Model: RMD20337 for Toshiba
Part Number: RMD20337
Associated Number: SE-R0295
Catalogue No.: 64942
Battery Required :

AAA Battery 2 pack

Dimensions:

2.00 x 6.00 x 1.00 (W x L x D, inches)
The ANDERIC RMD20337 for Toshiba DVDR Remote Control is originally supplied with DVD Recorder (DVDR) models: TOSHIBA DKVR60KU, TOSHIBA DVR610, TOSHIBA DVR610KU, TOSHIBA DVR620KU,
The ANDERIC RMD20337 for Toshiba DVDR Remote Control is compatible with DVD Recorder (DVDR) models: TOSHIBA DVR620KU/VCR, TOSHIBA DVR620KUVCR, TOSHIBA DVR660KU, TOSHIBA DVR670KU, TOSHIBA P000501430, Magnavox zv457mg9a, Magnavox ZV457MG9A/VCR,
Customer Reviews
Thank you for having this replacement remote. We did not want to give up the VHS player. Without this replacement remote, we would not have been able to use the VHS/DVD machine. Dan's is great!
Product worked as described and as expected. Very happy with my purchase.
Seems to be working fine.
Only used dvd functions so far. Seems like great quality
It worked right out of the box!!!
The functions I required worked fine with this universal remote and it was prices at less than half of what the OEM remote would have cost me.
After short term use, the remote appears to be a good replacement for my old, failing one.
Arrived a promised and works as expected.
I bought this remote to replace my Toshiba DVD/VCR remote and it works just as well if not better than the original! Highly recommend it!
Remote did not work at first with regular batteries. When I changed to "ultimate lithium" it worked.
Great replacement remote for my Toshiba DVR. The remote that came with my DV Recorder was wearing out, and some of the keys were not working properly. This one works great.
says this model replaces the original equipment code, but this one does not have all the same buttons to record.
It worked perfectly out of the box.
Worked perfectly. Just put batteries and used it on my dvd/vcr
Works great. Everything I expected.
Works great, much improvement over the old one I had, and does everything I need to move from DVD to VCR>
Got it for Mom....she says it is better than the original in user friendliness.
Received the remote far quicker than expected. It is as advertised, worked immediately, and easy to use. My only issue is that the printing on the buttons should be easier to read - they are almost grey. In general am very pleased with bot the service and the item.
It works great.Unlike my old Toshiba remote,all the buttons work just fine. Some buttons are in slightly different places which will take a little adjusting but that's no problem. Very easy to use Very happy with it. Thanks. Ed Verch
I am so relieved and pleased that this remote worked great with my VCR/DVD player. Thank you so much for offering this product. This saved me a lot of money.
the remote control is during great it is just what I need it does everything I need it to do. and thank you.
Works perfect! 3 weeks in and no issues.
Works perfectly with Toshiba DVD/VCR. Very happy with my purchase.
Almost, but not quite identical to the original.
Re: Anderic RMD20337 Thanks loads. Couldn't have done it without you.
Five star exactly what I needed.
Operating Manuals Available for ANDERIC RMD20337 for Toshiba DVDR Remote Control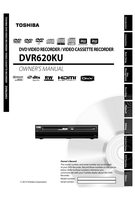 Originally Supplied with Models