Product Description:
Pre-programmed to Scientific Atlanta, Motorola & Verizon boxes, but will program to any cable box. Instructions are provided.
Xfinity Universal Remote - Red OK/Select Button. Works the HD and none HD cable boxes.
Works with the following brands:
Audio Amplifiers, GE, JVC, Soundesign, Victor, Wards, Yamaha

Audio Receivers, ADC, Aiwa, Bose, Capetronic, Carver, Denon, Harman/Kardon, Integra, JBL, JVC, Kenwood , Linn, Magnavox, Marantz, Onkyo, Optimus, Panasonic, Philips, Pioneer , Polk Audio, Proscan, RCA, Sansui, Sony, Stereophonics, Sunfire, Technics, Victor, Wards, Yamaha

Cable Boxes, ABC, Americast, Bell South, Comcast, Digeo, Director, General Instrument , GoldStar, Hamlin, Jerrold , Memorex, Motorola, Pace, Panasonic, Paragon, Philips, Pioneer , Pulsar, Quasar, Regal, Runco, Samsung, Scientific Atlanta , Sony, Starcom, Supercable, Torx, Toshiba, Zenith

DVD Players, Accurian, Aiwa, Akai, Alco, Allegro, Amphion Media, AMW, Apex Digital , Arrgo, Aspire Digital, Audiovox, Blue Parade, Broksonic, Cinea, Cinego, CineVision, Citizen, Coby , Craig, CyberHome , Daewoo , Denon, Disney, Durabrand, DVD, Emerson , Enterprise, ESA, Funai, Gateway, GE, Go Video , GoldStar, Harman/Kardon, Hitachi, Hiteker, iLo, Initial, Insignia, Integra, JBL, JVC , Kawasaki, Kenwood, KLH, Koss, Lenoxx, LG, LiteOn, Loewe, Magnavox , Marantz, Memorex, Microsoft, Mintek, Mitsubishi, NAD, NEC, Norcent, Onkyo, Oritron, Panasonic , Philips , Pioneer, Polaroid, Polk Audio, Presidian, Proscan, ProVision, Qwestar, RCA , Rio, Rotel, Sampo, Samsung , Sansui, Sanyo, Sharp , Shinsonic, Sonic Blue, Sony , Sova, Superscan, Sylvania, Symphonic, Teac, Technics, Theta Digital, Tivo, Toshiba , Urban Concepts, US Logic, Venturer, Vizio, Xbox, Yamaha, Zenith

DVD-R Players, Accurian, Apex Digital, Aspire Digital, Broksonic, Coby, CyberHome, Funai, Gateway, Go Video, iLo, JVC, LG, LiteOn, Magnavox, Panasonic, Philips, Pioneer, Polaroid, RCA, Samsung, Sharp, Sony , Sylvania, Zenith

TVs, Admiral, Advent , Aiko, Akai , Albatron, America Action, Anam, Anam National, AOC, Apex Digital , Audiovox , Aventura, Bell & Howell, BenQ, Bradford, Broksonic, Candle, Carnivale, Carver, Celebrity, Celera, Changhong, Citizen, Clarion, Commercial Solutions, Contec, Craig, Crosley, Crown, Curtis Mathes , CXC, Daewoo , Dell, Denon, Denstar, Dumont, Durabrand , Electroband, Electrograph, Electrohome, Emerson , Envision, ESA, Fisher, Fujitsu, Funai , Futuretech, Gateway, GE , Gibralter, Go Video, GoldStar, Grunpy, Haier, Hallmark, Harman/Kardon, Harvard, Havermy, Helios, Hello Kitty, Hewlett Packard, Hisense, Hitachi , Hyundai, iLo, Infinity, Initial, Insignia , Inteq, JBL, JCB, Jensen , JVC, KEC, Kenwood, KLH, Konka, Kost, KTV, LG , Loewe, LXI , Magnavox
Model: RC1475505/04SB
Part Number: RC1475505/04SB
Catalogue No.: 74840

Battery Required :
AA Battery 2 pack
Guaranteed Compatible Universal :
Anderic RRU401
, Use code:
5278
(
click here for programming instructions
)
The original xfinity RC1475505/04SB Cable Remote Control carries a 60-Days Warranty.
Customer Reviews
Remote works beautifully and came with full instructions and TV codes too! Excellent.
Exact remote to our last one. Needless to say, made the switchover easy. Thank you to fast inexpensive service!
Performs perfectly. Be sure to read and follow instructions. Needs two AA cells.
The "All On" button does not work. The person at comcast assisting me in setting it up told me something about the new software did not allow it. The code provided in the instructions did not have the correct number. The volume button does not work real well. Actually my old one that is taped together probably works better than the new one.
The remote works perfectly. I prefer this style remote over the new xfinity ones. I was very happy to find one online. Thank you!
These remotes are no longer stocked. Thank you for having them still available.
Appreciate it being easily available. After several years of use, the buttons on the old one became spongy/ non-functional. Thank you for having easy access to a new unit; working just fine. Also, shipping was very timely, and packaged well to protect the item.
WORKS GREAT JUST WHAT I ORDERED WILL DEFINITELY RECOMEND TO FRIENDS
Thank you! Works fine and fast shipping too
Works as described. I would recommend Dan's highly.
Looks brand new. Workks perfectly. So thankful I found your website!
Fast shipping;remote arrived already programmed and ready to use out of box in perfect condition.
Received exactly what I was looking for. Came packaged as if it was brand new. Very satisfied.
Even Better than expected. Like brand new.
Excellent condition and just what I needed. I do not believe the action taken by Comcast to discontinue this model since the newer X1 version remote is quite the POS, it seems just like something that an monopolistic type organization would do since they have no regards the forced consumer.
Very happy with the product and price.
These are working well. Got a couple for future replacements. These buttons do wear out with continuous use.
Very pleased with these remotes! Work well! Would recommend!
Some buttons don't work properly, but i can control tv, vcr & cable box all with one remote. It is a reasonably priced rdmote
same function and usability as the Comcast supplied remote
Perhaps an older model as the ones I received are printed "Comcast" at the bottom. I was able to program them to my current HD DVRs but I had to use a Wiki instruction file in order to re-program a few critical buttons, such as On Demand and My DVR. The units appear to be new and fully functional thus far.
Brand new replacement remote. Works just fine after being programmed.
Excellent product and service. Would certainly use again.
Very good purchase: easy to use, instructions were clear, easy to set up for non-technical people.
Customer Service was good, helped to program the volume and channel change.
Worked perfectly on the first try with zero setup. Great price, packed well, delivered quickly. I appreciate the option to add batteries to the order since I always forget to buy them. I would definitely buy again.
xfinity RC1475505/04SB Remote Control
COMCAST XFINITY Remote Control
Exactly what I needed. Worked perfect right out of the packaging. Easy, quick and problem free setup.
COMCAST XFINITY Remote Control
The remotes where exactly what I was looking for. It took a little digging on the Web to unlock the cable button, but we'll worth it!
COMCAST XFINITY Remote Control
While the technolgoy still has issues, it's one of the best tv experiences you can have.
COMCAST XFINITY Remote Control
This is the exact duplicate of the original remote we got with comcast. Works great ! But much less expensive than going to the comcast store!
COMCAST XFINITY Remote Control
It's just what I needed/wanted.
COMCAST XFINITY Remote Control
quality is satisfactory so far
COMCAST XFINITY Remote Control
The Comcast instructions for setting the remote to work with your cable box are a bit confusing. Otherwise, once I got the correct code entered, the remote works great.
Product Documentation Available
Operating Manuals Available for xfinity RC1475505/04SB Cable Remote Control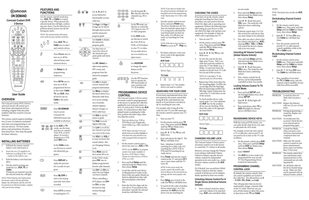 Originally Supplied with Models