Product Description:
REMOTE CONTROL
Pairing:
Press and hold [Return] and [Play/Pause] keys simultaneously
for at least 5 seconds or until a message appears on your
TV indicating that the remote is now connected.
Specifications
Model: BN5901241A/RMCSPK1AP1
Part Number: BN5901241A
Associated Number: BN59-01241A
Catalogue No.: 90491
Battery Required :

AA Battery 2 pack

Frequency Type :

IR + RF

Dimensions:

2.00 x 6.00 x 1.00 (W x L x D, inches)
Customer Reviews
Amazing product. Point it at the tv, hit a button and voila.... the volume goes up. No more walking over and pressing the button on the back of the tv. Hats off the the team that developed this gem.
Is the exact same OEM remote control that came with the TV! Works great!! Thanks!
Bought a refurbished remote... works like a new remote.... you can tell it's a used remote.... has a little wear... no complaints other than price
Excellent, good as new, and great service.
Works great! Delivered quick! 5 stars
sometimes it does not work until i remove a battery and reinstall it then it starts to work again the old remote did the same thing until it quit altogether so i ordered a new one i think this one will quit some day just like my old one must be something in the design flaw tv is worthless without a remote no buttons on the tv to do anything but look at a black screen thanks for nothing samsung
Excellent product reliable and have not had any issues. Also friendly customer service as well, called to check status they gave me the information I needed and the product actually came a day early.
Great product will def purchase again if the dog chews this one up!
Happy with my purchase works great.
Perfectly packed & delivered within time defined. Exact replacement for original remote which was 'altered' by a very busy puppy. So greatful to find reasonably priced devise as well. Thank you again!
Very pleased with remote. Price was very reasonable. Came as advertised and pretty quick for a cross border shipment. I definitely recommend it to everyone!
Exact replacement for factory. They should sell the rubber protection sleeves.
worked perfectly. Fast shipping too. Thanks
Fast delivery. Good transaction
This replaced exactly the OEM remote that came with my Samsung TV one year ago. My rating of 5 stars is not based on this remote's functionality or ease of use - I don't like that the Samsung remote does not have a number keypad for channel selection, but rather requires you to either advance one channel at a time, or navigate an on-screen virtual keypad, which is far slower. It also allows channel selection by voice command, but that rarely works properly. My rating of 5 stars is based simply on the fact that I was able to purchase my OEM replacement remote from replacement remotes.com for approximately 50% of the cost elsewhere, so it was a great value. My new remote arrived quickly, well packaged and in perfect condition. I would purchase from this site again.
Exactly as I expected. Decided to order from Replacement Remotes instead of Amazon due to reviewers on that site reporting inauthentic items. If I wash this remote in the washer like I did with the original, I will definitely re-order from this site. Glad I got the batteries as well.
Arrived quickly, paired immediately with TV, looks and works brand new. Thumbs up!
Synced with my Samsung TV right away!
Fast and priced right. Remote was brand new and works great
Exactly like the factory remote my wife puked on and ruined. Highly recommend it. The remote, not the puke.
after selecting an "open box" TV from Best Buy ... (previously reduced cost by thousands... but it wasn't selling) discovered it didn't have the proper "smart" controller & the generic controller store offered didn't do the job VERY happy to have found appropriate controller at REPLACEMENT REMOTE.COM Thank you !!
And our dogs seem to enjoy them as well. I'm sure we will be buying more!
The remote shipped and arrived within days. Exactly what I ordered, paired instantly with the TV. Best price by a lot!! Would definitly repurchase if needed!
Popped in the batteries and it worked like a charm. No programming required. Nice!!
Works perfectly. The power button is a little hard to push but other than that everything is great.
Quality is great. The only comment I would have is to send instruction on how to program it to you TV. Otherwise I am very pleased with it!!
Sanaaung remote Came fast and as promised ..I would recommend this seller.
The remote works well. I ordered this replacement because my original remote turned the TV off when it was barely touched. This one is the same. It must just be a characteristic of the product.
Excellent. Works better than the original remote the TV came with. Super fast shipping! A+++++
Works perfectly and arrived quickly. No complaints!0
So far the remote works great. It did not work when I first reviewed the product, but found out through some research that I needed to pair the remote with the tv by holding down the return and extra buttons for 3 seconds. I recommend the product.
Awesome. Works way better than the one my dog chewed up.
Manufacturer replacement remote. Perfect! Thank you SO much!
Perfect with no suprises Thanks
exactly same remote that came with the tv. Works just like the original
Quick shipping and was a perfect replacement that matches the original remote.
Great remote, all functions work as described.
As good as the original. Exact same model. Works great.
Worked fine with new batteries. No setup required
Remote works great!! Just like new!!
The remote control works exactly like the original remote that I lost somewhere in my house.
Thank you, the remote works great.
Shopping for a replacement remote control was easy on your site.The price was very reasonable and works like the original.the shipping was fast and was packaged with care. I would by from you store again an most likely will. your store is the go to place for replacement remote control's. you guys are definitely a Five Star service. Thank You, srsndguru
shame you cannot use two remotes at same time. must be paired to tv
Perfect. Great price and exactly what was needed.
Was well pleased with the remote---just fine.
Quick delivery. Product looks and works like new. I purchased as a 2nd remote, for my wife. However, what I didn'tt know is this model Samsung TV does not allow pairing two remotes, so I can't use it. Nonetheless, I will keep it.
Operating Manual Available for SAMSUNG BN5901241A/RMCSPK1AP1 TV Remote Control
New Product
Free Download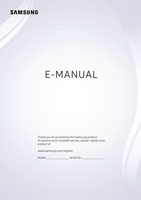 Originally Supplied with Models