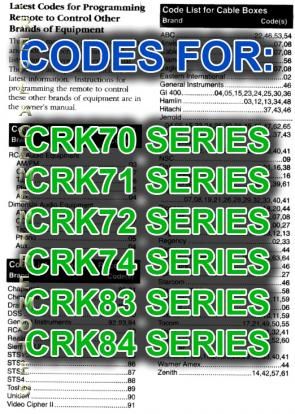 Roll over image to zoom in
Click on image to zoom
Product Description:
CODE BOOK ONLY! These codes are used for programming your CRK series remote to program with other units (ex. SAT, CABLE, VCR, Audio, and Laser Disc). This code book does not have codes for TVs, and does not include instructions on how to program your remote. If you are looking for the instructions on how to program your remote using these codes you will have to find the Operating Guide to your TV.
Programming Codes for all:
CRK70 SERIES
CRK71 SERIES
CRK72 SERIES
CRK74 SERIES
CRK83 SERIES
CRK84 SERIES
Includes:
FULL CODE LIST
Codes for: LASER DISC PLAYERS, VCRs, CABLE BOXES, AUDIO, AND SATELLITE RECEIVERS
SPANISH AND ENGLISH VERSIONS. EN ESPANOL
2 PAGES
Model: CRK CODES OM
Part Number: CRK_SERIES_CODES_BOOK_ONLYOM
Catalogue No.: 61072

Page Count :
2
Dimensions:
11.00 x 8.50 x 0.25 (W x L x D, inches)
The original RCA CRK CODES OM Operating Manual is in-stock and ships within 24 hours.