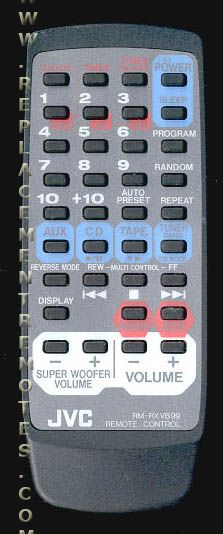 Roll over image to zoom in
Click on image to zoom
Product Description:
Model: RM-RXVB99
JVC AUDIO REMOTE CONTROL
Retail: $79.00
Registered on 1998-12-01
Specifications
Model: RMRXVB99
Part Number: RMRXVB99
Associated Number: RM-RXVB99
Catalogue No.: 1807
Dimensions:

2.00 x 6.00 x 1.00 (W x L x D, inches)
The JVC RMRXVB99 Audio Remote Control is originally supplied with Audio System models: JVC RVB99, JVC RVB99BJK, JVC RVB99BK, JVC RVB99BU, JVC RVB99GY, JVC RVB99LTD, JVC RXB99BK,
The JVC RMRXVB99 Audio Remote Control is compatible with Audio System models: JVC RV55GY, JVC RVB55, JVC RVB550, JVC RVB550BU, JVC RVB550RD, JVC RVB551TD, JVC RVB5564, JVC RVB55BU, JVC RVB55GY, JVC RVB55LTD
Customer Reviews
Just Like the original. The sound quality on my JVC kaboom box is like the day I bought in 2000. To bad the remotes don't last as long as the equipment. I never thought I would be able to replace the remote again. I replaced oen about 10 tears ago.
Thank you, works like a charm, feel lucky to find this hard to find replacement. You guys rock.
JVC RMRXVB99 Remote Control
I dropped a JVC boombox remote, and it stopped working. I ordered an exact replacement, and the it worked perfectly.
Operating Manual Available for JVC RMRXVB99 Audio Remote Control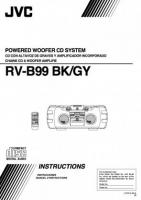 Originally Supplied with Models