Roll over image to zoom in
Click on image to zoom
Product Description:
MODEL: RM-C1255G
PN: RM-C1255G-1H
JVC TV REMOTE CONTROL
Registered on 2002-12-05
Specifications
Model: RMC1255G
Part Number: RMC1255G1H
Associated Number: RM-C1255G-1H
Catalogue No.: 7297
Battery Required :

AA Battery 2 pack

Guaranteed Compatible Universal : Anderic RRU401

, Use code:

2701

(

click here for programming instructions

)
The JVC RMC1255G TV Remote Control is originally supplied with models: JVC AV32D104, JVC AV36D104, JVC AVN29304,
The JVC RMC1255G TV Remote Control is compatible with models: JVC AV27CF35, JVC AV27CF35/S, JVC AV27CF35/Z, JVC AV27CF35S, JVC AV27CF35Z, JVC AV27CF36, JVC AV27CF36R, JVC AV27CF36S, JVC AV27MF36, JVC AV27SF35 JVC AV27SF35/S JVC AV27SF35/Z JVC AV27SF35S JVC AV27SF35Z JVC AV27SF36 JVC AV27SF36R JVC AV27SF36S JVC AV27W36R JVC AV27WF35 JVC AV27WF35/S JVC AV27WF35/Z JVC AV27WF35S JVC AV27WF35Z JVC AV27WF36 JVC AV27WF36/R JVC AV27WF36S JVC AV27WR25 JVC AV32CF35 JVC AV32CF35/Y JVC AV32CF35/Z JVC AV32CF35Y JVC AV32CF35Z JVC AV32CF36 JVC AV32CF36Y JVC AV32CF36Z JVC AV32MF36 JVC AV32SF35 JVC AV32SF35/Y JVC AV32SF35/Z JVC AV32SF35Y JVC AV32SF35Z JVC AV32SF36 JVC AV32SF36Y JVC AV32SF36Z JVC AV32WF35 JVC AV32WF35/Y JVC AV32WF35/Z JVC AV32WF35Y JVC AV32WF35Z JVC AV32WF36 JVC AV32WF36/Y JVC AV32WF36/Z JVC AVN29530
Customer Reviews
JVC RMC1255G Remote Control
It works my handicapped hubbys JVC tv perfectly. It is the one he learned by heart and uses it every day as if he were not handicapped.
Operating Manuals Available for JVC RMC1255G TV Remote Control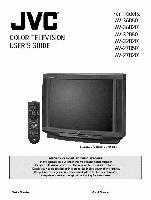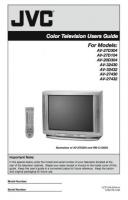 Originally Supplied with Models