Product Description:
Pre-programmed to Scientific Atlanta, Motorola & Verizon boxes, but will program to any cable box. Instructions are provided.
Comcast Universal Remote - Red OK/Select Button. Works the HD and none HD cable boxes.
Works with the following brands:
Audio Amplifiers, GE, JVC, Soundesign, Victor, Wards, Yamaha

Audio Receivers, ADC, Aiwa, Bose, Capetronic, Carver, Denon, Harman/Kardon, Integra, JBL, JVC, Kenwood , Linn, Magnavox, Marantz, Onkyo, Optimus, Panasonic, Philips, Pioneer , Polk Audio, Proscan, RCA, Sansui, Sony, Stereophonics, Sunfire, Technics, Victor, Wards, Yamaha

Cable Boxes, ABC, Americast, Bell South, Comcast, Digeo, Director, General Instrument , GoldStar, Hamlin, Jerrold , Memorex, Motorola, Pace, Panasonic, Paragon, Philips, Pioneer , Pulsar, Quasar, Regal, Runco, Samsung, Scientific Atlanta , Sony, Starcom, Supercable, Torx, Toshiba, Zenith

DVD Players, Accurian, Aiwa, Akai, Alco, Allegro, Amphion Media, AMW, Apex Digital , Arrgo, Aspire Digital, Audiovox, Blue Parade, Broksonic, Cinea, Cinego, CineVision, Citizen, Coby , Craig, CyberHome , Daewoo , Denon, Disney, Durabrand, DVD, Emerson , Enterprise, ESA, Funai, Gateway, GE, Go Video , GoldStar, Harman/Kardon, Hitachi, Hiteker, iLo, Initial, Insignia, Integra, JBL, JVC , Kawasaki, Kenwood, KLH, Koss, Lenoxx, LG, LiteOn, Loewe, Magnavox , Marantz, Memorex, Microsoft, Mintek, Mitsubishi, NAD, NEC, Norcent, Onkyo, Oritron, Panasonic , Philips , Pioneer, Polaroid, Polk Audio, Presidian, Proscan, ProVision, Qwestar, RCA , Rio, Rotel, Sampo, Samsung , Sansui, Sanyo, Sharp , Shinsonic, Sonic Blue, Sony , Sova, Superscan, Sylvania, Symphonic, Teac, Technics, Theta Digital, Tivo, Toshiba , Urban Concepts, US Logic, Venturer, Vizio, Xbox, Yamaha, Zenith

DVD-R Players, Accurian, Apex Digital, Aspire Digital, Broksonic, Coby, CyberHome, Funai, Gateway, Go Video, iLo, JVC, LG, LiteOn, Magnavox, Panasonic, Philips, Pioneer, Polaroid, RCA, Samsung, Sharp, Sony , Sylvania, Zenith

TVs, Admiral, Advent , Aiko, Akai , Albatron, America Action, Anam, Anam National, AOC, Apex Digital , Audiovox , Aventura, Bell & Howell, BenQ, Bradford, Broksonic, Candle, Carnivale, Carver, Celebrity, Celera, Changhong, Citizen, Clarion, Commercial Solutions, Contec, Craig, Crosley, Crown, Curtis Mathes , CXC, Daewoo , Dell, Denon, Denstar, Dumont, Durabrand , Electroband, Electrograph, Electrohome, Emerson , Envision, ESA, Fisher, Fujitsu, Funai , Futuretech, Gateway, GE , Gibralter, Go Video, GoldStar, Grunpy, Haier, Hallmark, Harman/Kardon, Harvard, Havermy, Helios, Hello Kitty, Hewlett Packard, Hisense, Hitachi , Hyundai, iLo, Infinity, Initial, Insignia , Inteq, JBL, JCB, Jensen , JVC, KEC, Kenwood, KLH, Konka, Kost, KTV, LG , Loewe, LXI , Magnavox , Marantz&
Model: RC1475505/02SB xfinity
Part Number: RC1475505/02SB
Associated Number: RC147550502SB
Catalogue No.: 78680

Battery Required :
AA Battery 2 pack
Guaranteed Compatible Universal :
Anderic RRU401
, Use code:
5278
(
click here for programming instructions
)
Frequency Type :
IR
Dimensions:
2.00 x 9.00 x 1.00 (W x L x D, inches)
The original COMCAST RC1475505/02SB xfinity Cable Remote Control is in-stock and ships within 24 hours.
The original COMCAST RC1475505/02SB xfinity Cable Remote Control carries a 60-Days Warranty.
COMCAST RC1475505/02SB xfinity Cable Remote Control is guaranteed to work with the following Cable Box models:
Originally supplied with Cable Box models: COMCAST RC1475507/02B Operating Manual and Codes,
Compatible with Cable Box models: TIME-WARNER 1056B01, ADELPHIA A041402, Motorola ARRIS VIP2262, COMCAST C061702, Channel Master CM7000, COX DCH3200, COMCAST DCT3412, Motorola DRC425, TIME-WARNER EXPLORER2000, COMCAST G054603 VERIZON MOTOROLA QIP2500-3 Set-Top Motorola UA107 Scientific Atlanta VT94A Scientific Atlanta VTTU94A xfinity X1 Series
Customer Reviews
Comcast Xfinity remotes don't work with our Comcast Xfinity cable boxes. We ordered them before and they worked. But not this time. Worthless!
Product worked great, price was great, shipped same day and arrived as stated in good order. Thanks and I will buy from your service again!!
Matched the previous control fine.
Works great. Initial programming took a short time but then everything worked great.
The wrong item was mailed to me, but I phoned and received a kindly person to speak with on the phone, who admitted there had been a mix-up. I was mailed the correct remote and it arrived speedily. It was in good condition and works well. thank you. MW
It's an exact replacement of the one that broke. I still haven't had any luck with the cable company so your website was a godsend! It works just like the original.
Did the job. Had to have a Comcast tech do the set up.
It worked the first time Very pleased with this remote
It works. Could use better instructions.
Works perfectly. Required programming for my cable box but instructions were included. Very pleased!
Perfect replacement for the original Comcast remote. All I had to do was put in the batteries and remote worked great - no reprogramming needed.
Just like original one. Only issue is I can't get HD Zoom to work but I don't think it's a remote problem. Very satisfied. Thanks for prompt service. If anyone has ideas for HD Zoom please advise. Thanks.
Very satisfied with your service
Remote works perfectly-thank you for the fast delivery.
Returning Remotes...do to being outdated with new electronics.
Remotes received worked as advertised. However, do not feel that the first one I received was "NEW", but worked well. I only received 1 of 5 originally ordered remotes but the customer service person addressed the issue and I had the remaining remotes in short order. I'd give Customer Service 7 out of 5 stars as this was an issue they resolved quickly. This is a great Universal Remote for all types of equipment and at a very reasonable price compared to others on the market.
Terrific. Works perfectly. Thanks.
wanted direct replacement for my old remote...I found that the the XR2 remote that Comcast gave me as a replacement was too small & very difficult to use, this replacement was perfect.
will come back again, fast & easy purchase!
I am very happy with the remote very easy touse
Website says that they only send the remote that is pictured. This is not true! I specifically ordered the silver remote with the "RED" select button, instead I received one with the "GREY" button. It still works, but not what I had ordered.
The remote worked perfectly! Your instructions on how to set it up was even better since it only took a few minutes and I was back in business.
As I said above--so much better than my original remotes!
So much better than my original remotes! Ordered and received them easily and quickly. Very happy with your service.
COMCAST RC1475505/02SB Remote Control
Works great and excellent quality
COMCAST RC1475505/02SB Remote Control
COMCAST RC1475505/02SB Remote Control
COMCAST RC1475505/02SB Remote Control
Used with a Comcast DCT700 SD Motorola box. Original remote. Fully functional after coding. Highly recommended. Excellent price.
Product Documentation Available
Operating Manuals Available for COMCAST RC1475505/02SB xfinity Cable Remote Control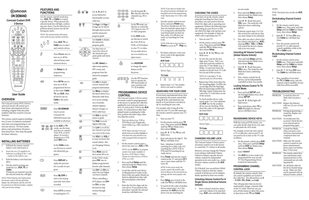 Originally Supplied with Models